Managing a Blue-collar Workforce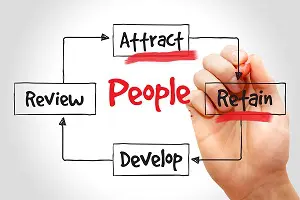 Hiring and retaining a "blue-collar" workforce rapidly rises in importance once the challenges of taking over the business after closing are dealt with. Searcher/CEOs report that managing a direct, nonexempt, hourly labor group is much more challenging than an office-, professional-, or highly technical workforce. In many instances, the searcher has never worked in one of these direct labor roles and has no immediate friends, family, or relatives from this group, so it may be hard to relate to their needs.
Often, employees in this category may draw from a concentrated ethnic group with different language skills from the rest of the company's employees. They frequently lack advanced or college degrees and may have not finished high school. However, most often, they are the ones that "get the job done," have direct contact with customers, and are counted on to create and deliver a high-quality product or service.
There is a general tendency to focus on the top of the pyramid with the higher paid, salaried "office" employees who seem critical to the survival of the business (See Blog Post: Selecting Your Direct Reports). After the business is acquired, the searcher/CEO spends time learning the business and relies on the management team in place to continue achieving sustainable performance. These front-line employees, often layers beyond the CEO's direct reports, are a critical resource.
In a survey of 53 EtA (Entrepreneurship through Acquisition) businesses, 28% had these hourly, direct employees, while the balance was made of up office workers who are generally on salary. In addition, 15% utilized temporary or part-time workers to augment cyclical or seasonal demand, and 4% were represented by a union. Learning techniques and best practices are critical to turning these blue-collar workers into a competitive advantage. Sunny Kanneganti at Mobile Sweep emphasized the following for other searchers: "Knowing if your acquisition prospect is a 'low-wage/low-skill' or 'high-wage/high-skill' is a huge determinant of how you manage your workforce."
Richard Bi at Plaeris, who owns a Paul Davis restoration franchise in NYC, looks at it this way: "I focus on culture and treating employees well. It seems basic, but I was surprised to find out how not normal this is in many blue-collar industries. As a result, our turnover is extremely low because the technicians have worked other minimum wage jobs, including at some competitors, prior to coming here, and many have experienced terrible cultures and frequent mistreatment. I don't want to give my employees jobs; I want to give them careers!"
Recruiting through referrals has mixed results
The most common and successful method of recruitment and identification comes from referrals from company employees who are reminded with job postings as the need arises. They will recommend their friends or relatives, provide ride-sharing, enhance their social network at work, and often can be an onboarding "buddy," as Austin Hall from Brick Street Partners at Greenwise Organic Lawn Care found to be true: "When a new employee is referred by an existing employee, the retention rate is significantly higher. They don't want to disappoint the friend who referred them. Our primary hiring channel is our existing staff."
"Affinity networks" were found helpful to one searcher: "Many of our technicians are veterans, and we have tapped into that network with their guidance." One also related, "Nearby job fairs have given us some good leads in the local communities," and another said, "Relationships with instructors at trade schools have worked well for us." Scott Duncan from Bancroft Holding at F&M Tool and Die suggested that CEOs "be in a position to hire when your competition is laying people off or going out of business." Zack Belzberg from Northmont at Dodds Garage Doors in Canada reported: "We have started to recruit at community colleges and offer in-house training. It is expensive but necessary."
Of those surveyed, 61% have a referral bonus program, but many of them report that it has not worked out well, as Austin Ashmore from NextGen Growth Partners at Sunrise Landscape observed: "We have had middling success with our $500 program so far, as most employees have been with us a long time and thus exhausted their personal networks some time ago." Or as Andrew Mondi from Lyndhurst Capital, at American Color Labs said, "I offered a $100 reward once, but nothing ever came of it." Another said they have been much more effective by handing out a "We are Hiring Flyer" at jobsites and encouraging employees to be "ambassadors" for the company. A few remarked that their bonus program suffered due to not being documented well or tracked consistently—a great lesson about the importance of launching and sustaining HR policies.
The remainder who have effectively used referrals pay a range of $200 to $1,000 depending on the wage level of the position, and they wait an average of 6 months before paying, with some splitting the payment at 3–6 months and at 12 months. The amount paid does not seem to correlate to success; it seems to be more about recognition. Tyler Hogan, at East Range Partners, was enthusiastic about their referral process: "We love referrals and reach out to key employees that we feel might have a good network of referrals with an option to earn $200. Ultimately, across our three businesses, 4 out of 10 employees were referrals." Another CEO described their creative referral program: "The referrer receives $100 after the individual he/she has referred has worked 16 hours as a home care provider. Then the referrer has an opportunity to earn $0.25 for every hour that the new teammate works for up to two years. They can earn up to $1,000 over two years."
Tools to support recruiting efforts
CEOs report varying degrees of success with websites for job postings and evaluation and cite that their outcomes are industry specific and locality specific. In no particular order, they mentioned the following: Indeed, ZipRecruiter, CareerPlug, Monster, Snagajob, or an aggregator, such as Workable. A few report using an evaluation tool, Predictive Index (PI), which is run by two serial searchers, Mike Zani and Daniel Muzquiz. Using a short questionnaire, PI establishes a "work style" for a specific workgroup of existing successful employees and allows the hiring process to screen candidates for similar attributes. A quality inspector may have different characteristics than a field technician, for example. One CEO reported, "We implemented PI and have found the personality assessment to be very helpful in projecting success for our new hires after training our in-house Talent Optimizer." Using web-based software benefited the process for another CEO: "We began a more thorough candidate screening process with a candidate assessment testing software: CriteriaCorp. All applicants take the test, which has been a nice indicator of a candidate's fit for the role."
In a survey of two dozen CEOs, 23% successfully reported using "temp agencies," with one stating, "We find this is the best way to 'try before you buy,' but it takes a while and effort to find the agencies who get what you're looking for and consistently deliver." Jon Fitzhugh at ConcealFab reported, "We have had pretty good success, especially with hourly manufacturing, low-skilled, and semi-skilled labor. We pay them until month 3; then we can hire permanently and find that is typically sufficient time to evaluate if an employee is fit for being full-time." Richard Bi at Paul Davis observed, "In a way, we're outsourcing some of the challenges of managing the minimum-wage workforce." John Holsapple at Stanley Ruth said, "For general labor, we turned to 'temp agencies' that allowed us to scale quickly and more cleanly let go of people that did not work out. On the mechanic side, this process was not particularly successful until we found an agency/recruiter that worked specifically in our niche." CEOs report that it often takes their own personal engagement to find the right agency.
Others report that using temp agencies just hasn't worked for their business. One CEO described it as "a horrible experience, really expensive. They threw terrible people at us to see if one would slip through to be hired." Bernard Ho from Magnet Equity at Lowpensky Moulding explained, "We have bad experiences with development/placement agencies. Perhaps because the candidates are on public assistance and lack enthusiasm or basic life skills to just show up on time." Similarly, Sunny Kanneganti at Mobile Sweep abandoned agencies altogether: "After eight months, we made several hires; none worked, so we dropped them and never looked back. The cut they take, usually paying the employee 50%–60% of what we pay their agency, is absurd and provides unmotivated employees with the agency having no incentive to find long-term employees, but rather to keep you churning." Austin Ashmore at Sunrise Landscape cautioned, "We have not utilized any temp agencies, mainly because they have a bad reputation for skirting immigration laws, which is critical in our industry."
Engaging the organization in the hiring process
Of two dozen CEOs surveyed, 44% were significantly engaged in the hiring process. Direct involvement in the process is dependent on the size of the business. A year after acquisition, a CEO remarked, "With a dozen employees, I have led all the hiring. There is no HR function, but instead a collaboration between the department heads and the small admin group." Similarly, Sunny Kanneganti at Mobile Sweep pointed out, "At our size, we share responsibility. I'll post the listing on ApplicantPro, which basically cross posts to Indeed, Craigslist, and a few others. Then our admin does the initial screen/phone interview, forwards their favorites, and we'll bring those in for an in-person and make the final hiring decision." Another searcher/CEO reported "In the first six months after closing, I used our payroll records to go back 2-5 years to identify critical roles and reached out by phone, email or networking to see if there was interest in rejoining the company now under new ownership. You only get to do this once!"
Ahron Oddman at PSS converted all of their hourly employees to salaried: "I'm trying to build a culture with very specific elements, and I want the team to be working efficiently and creatively. Not incentivized or limited by the clock. I make the final decision on who to hire, and our managers are responsible for recruiting and bringing a strong stable of candidates to the table." Regarding his 20 employees at F&M Tool and Die, Scott Duncan stated, "I do all the hiring and will pull in other people as needed, but most of the time, they are hesitant to have their 'fingerprints' on a new hire." More significantly, it's important to understand your own perspective like one CEO said, "In my case, walking into a blue-collar environment with white-collar habits made me waste my precious time. Quickly, I had to adapt to my environment and not the other way around."
Jon Blanchard at ETI Precision, a midsized business, shared his process: "I typically interview candidates in the last round, participate in final decisions, and prepare/negotiate all offers. Team managers take responsibility for the early stages of the process reviewing resumes and initial interviews." John Holsapple at Stanley Ruth advised, "Every senior person in the company has a role during the interview process. We are always hiring, but we try to group our activity with a designated 'owner' of each hiring push to have better comparability and use fewer resources on the hiring front. After some bad experiences, we no longer 'give a shot' to 'walk-in' candidates and do trust our gut on candidates who seem toxic or untrustworthy." Andrew Mondi of American Color Labs reflected, "I have never delegated this away. I really want to know who's in my shop. I have others do interviews in addition to mine, but ultimately I make the final call." Austin Ashmore at Sunrise Landscape related, "We brought on an HR Generalist & Recruiter who will have the primary responsibility for identifying and initial screening of candidates. We target prospects with specific experience in blue-collar industries, especially among Hispanic/Latino communities here in South Florida."
Larger organizations allow the CEO to step away from hands-on engagement with hiring direct labor. Operations managers, middle managers, production staff, field supervisors, and crew leaders are often responsible for hiring their team members. At at a multistate business with more than 1,000 employees one reported, "We have a two-level Talent team. Local is necessary to maintain engagement; Central has helped with developing and implementing retention initiatives." Tyler Hogan from East Range Partners describes their process: "The General Manager posts the job descriptions on Indeed, and we hire a freelancer to support the screening effort to get the GM a solid candidate pool. From there, the GM will have an in-person interview. The CFO preps the final offer paperwork."
Brian Kruse at Legacy Roofing Services, with more than 100 employees in his commercial roofing business, has a dedicated recruiting team led by their Chief Talent Officer. Another CEO observed, "I have been too busy with sales, and originally the accounting department was responsible for recruiting and hiring. As we grew, we brought on an hourly HR person to help, and it has made things better but is not yet the full solution." Trish (Bisset) Higgins at Chenmark Capital Management said, "Our company bit the bullet and hired a full-time recruiter who oversees sourcing and onboarding employees. In our industry, it seems that everybody complains about not finding good people but doesn't allocate any resources to it." Another stated, "We hired a Talent Acquisition Partner, and our ability to recruit and sustain a healthy pipeline of candidates has improved significantly with someone to focus on this 100% of their time."
The pay rate is a hiring variable
To attract talent, 50% of those surveyed reported paying a wage rate above (18%) or slightly above market (32%) to attract hires. The balance felt that they offered the market rate (33%), and 17% were successful below the market rate. Austin Ashmore at Sunrise Landscape explained their tactics: "We provide a lot of overtime as a key differentiator. Competitors run 36/40-hour weekly targets, and we run fewer and more productive crews who look at their weekly paycheck, not hourly wage. However, younger employees seem more interested in work/life balance." Another said, "We offer higher total take home when factoring in year-round employment, medical benefits, customer tips, and commission bonuses." A few reported having to be flexible to make exceptions based on the skill set.
Be willing to admit mistakes and fire quickly
Most of those surveyed felt that despite their sourcing and hiring screening efforts, turnover rates remained high. Many evaluated their new hire quickly to avoid "confirmation bias" and recognized that hiring mistakes could easily be made. Scott Duncan at F&M Tool and Die shared, "I explicitly say that there will be a probation period that gives both parties a way out in case of a mis-hire." A probation period forces acceptance of this reality with 28% reporting 30 days or under, 63% between 31 and 90 days and 9% over 90. In addition, over-hiring and keeping a full pipeline makes it easier to evaluate performance and terminate quickly. Anthony Bucci at CDL Underground Specialists stated, "We bring laborers on for an expedited two-week trial to understand if they are a fit and potential hires understand the expectations. This hands-on trial period is much more insightful than standard interviews, and it also allows the potential hire to better understand our company's culture/dynamic."
One CEO uses internships as a screening tool. Another said, "We review new hires at 30-day intervals," and another reported, "The team keeps a close eye on and provides quick feedback with new employees." Tyler Hogan and East Range Partners discovered the following: "Just hiring positive team members that exemplify our core values and slowly and methodically weeding out those who don't is highly appreciated by team members." One CEO said, "For people with poor English skills, it is often the barrier to better jobs, and therefore they can be very intelligent, loyal, hard-working, and great employees. I now listen to their language on the radio in my commute." Another echoed that with this statement: "First-generation immigrants are incredibly hardworking and loyal." Doren Spinner at Muir Beach reflected, "Incoming hires were on a probationary period of 30 days. The decision to keep them or not at that point is easy. I thought I was good at pattern recognition, but I never saw any consistency as to who makes it through. I found that employees that stick around for the long term have all different backgrounds and come with their own baggage."
Retention is even more critical than hiring
Getting people in the door is challenging but retaining them is much more important. Hourly and part-time workers want to be appreciated and connected with the company they work for and seldom rank pay as their primary motivation to stay on after being hired. Given their shift schedules and, in some cases, their language challenges, developing rapport with them can be difficult. Too often, this part of the workforce may be neglected at the searcher's peril. Of all the effort, expense, time, and attention, 75% should be focused on employees once they are in the door. Striving to be fair and consistent builds trust. Nico Gaisman from Upland Holdings in the UK at Metro Mechanical found frequent feedback to be well received: "Passing on positive customer input is a big morale booster which ensures that employees feel part of a broader team." Mike Katz at Molded Dimensions said, "People want better and sooner feedback than in the past, and we diligently provide 30-, 60-, and 90-day reviews."
Benefits that are unique to your company/workforce result in higher levels of engagement. Flo Servan at Onsite Truck & Trailer uses a variety of techniques to retain mechanics, including "uniform service, smartphones and tablets, an annual boot allowance, and a semiannual tool allowance." Greg Shapiro at Stanley Ruth in NYC reported, "Mechanics can take home service vehicles, and we pay for their commuting tolls. As an incentive, top customer-rated mechanics were the first to get new work trucks." Another says, "We focused on a number of small wins with our employees. New knee pads, tools, phones, overtime hours, and equipment upgrades. Small costs with a big impact."
Andrew Mondi at American Color Labs reported, "We instituted a 'token' recognition system. Once per month, each employee gets a token that they can give to another employee sometime during that month. They must recognize the other employee for an exceptional effort or innovative action by giving them a token. There is a framework for the speech that the presenting employee must follow. At the end of the month, employees can cash in their tokens for $20 each. It has been a great way to encourage our team." Another searcher/CEO pointed out, "Small things can go a long way. Team lunches, pizza Fridays, uniforms, badges, employee of the month, lockers, free tea and coffee station with good-quality free soda, and kitchens stocked with snacks are good investments. Just be consistent in providing them but in a way that they don't become entitlements." Another found that "having a clear job description along with a clear progression on how to advance and the pay-scales associated with those promotions clarifies how to get ahead."
Scott Holley at Eddy Kayaks reported, "We have weekly meetings to keep folks informed. I think that the culture is what keeps people coming to work every day. They enjoy who they work with and don't want to let their coworkers down. We do not have profit sharing or production quota bonuses. Profit sharing can backfire as an incentive because most of the workers on our team do not have an influence on our cost structure. Our 'better than market' benefit package includes paid time off, Simple IRA, health, and dental." Another CEO said with disappointment, "I feel like our PTO and holiday benefits are pretty unique: 10–12 paid holidays per year and 128 hours of PTO. Unfortunately, I wouldn't say this is particularly valued by our employees." One was proud of their benefits package: "We provide employer-sponsored short-term disability, long-term disability, AD&D, and life insurance at a fairly minimal cost. We had an employee who benefited enormously from LT disability; it's a low-cost, life-changing benefit when it's needed, and our employees know it."
At this level of the workforce, 32% of reporting CEOs have some level of profit sharing. Brian Kruse at Legacy Roofing reported, "We have a 'jobsite' profit-sharing program that is very popular." Two CEOs stopped their profit-sharing practice, and one said, "I converted the bonus to hourly pay because it was valued less because it was not guaranteed but expected." Another reported, "Employees get two weeks' pay plus a day per year of seniority, up to three weeks of pay, if the company hits the revenue target." Nico Gaisman at Metro Mechanical said, "A six-month bonus payment works well here in the UK." However, Scott Holley said, "Profit sharing can backfire as an incentive because most of our team do not have influence on our cost structure." Sunny Kanneganti at Mobile Sweep advised, "Avoid complicated financial reward systems such as 'do these tasks and you make extra money.' Either it's gamed by crafty employees, or people don't understand it, and you don't get the desired behavior change."
Crew/team leaders and frontline supervisors are critical
Your hourly workforce is seldom on a direct line to you; instead, their direct supervisor is the face of the company. Tyler Hogan at East Range Partners values them highly: "Having managers in leadership positions that have worked their way through the company and were promoted by us is incredibly valuable. They tend to carry a sense of momentum with them that flows to their direct reports. We are selecting for a growth mindset, embodiment of our core values, evidence of being a team player, unwavering positivism, and resilience." Another CEO observed, "Internal promotions show that building a great company starts with empowering and investing in great team members. Managing employees performing the tasks that they were formerly performing gives them an automatic head start in gaining the respect and support of their direct reports. We haven't been successful bringing in anyone from the outside as a supervisor." Alex de Pfyffer with Heritage Holding at Maicom observed, "Our homegrown supervisors have a lot of credibility with the workforce and understand the business extremely well."
Paying particular attention to these team leaders has significant benefits, as Richard Bi at Paul Davis found: "Ongoing training for supervisors is necessary because we're emphasizing promotion from within wherever possible. It really reinforces the 'opportunity' message once new hires see that their own leadership are given training opportunities and added responsibilities. One of the key requirements of our frontline managers is to coach and support their team members and identify future crew leaders." Austin Ashmore at Sunrise Landscape explained their method: "With our supervisors, we 'train the trainer' by mentoring and supporting them on our software and systems, and we work together to establish the quality standards for the work performed in the field. Once aligned on procedures, they are empowered to train the crew leader, and the crew leader trains their team." Another CEO tries them out first: "Potential candidates will be obvious after a few months on the job, and we'll tap them to see if they're interested in a lead position and begin to give them more responsibility. If they show they can handle it, we'll do a formal promotion." Jon Fitzhugh at ConcealFab commented, "We have a standard management training program for supervisors in addition to utilizing our Paychex services for some of the training as well."
Jon Blanchard at ETI Precision identified what he looks for: "The most important characteristic is someone who will advocate for their team. A supervisor who will push back on me if necessary or demonstrate they look out for those they're responsible for are able to build trust with their teams quickly." Another CEO pointed out, "They just need lots of support to learn how to prioritize their days so that they will spend less time on lower value activities and more time thinking about scheduling two weeks in advance." Brian Kruse at Legacy Roofing discovered, "Due to the seasonal nature of our business, we shifted our foreman to non-exempt salary to provide benefits and income stability during the off season which has resulted in improved recruiting and retention for this critical position."
Depending on the background of the workforce, one CEO related, "I strongly believe that the companies that can recruit and retain bilingual supervisors will be the winners long term. Those supervisors allow us to manage more effectively and hire more liberally, and this long-term culture play can make our company a destination to work relative to our competitors." Andrew Mondi at American Color Labs discovered that "just like 'location' in real estate, crew leaders are all about 'leadership, leadership, leadership.'"
Be consistent and fair about poor choices and bad performance
There is an old saying most often attributed to Woody Allen that "80% of success is showing up." In the case of frontline workers, one of the biggest daily challenges is having a full crew available to work, and being on time is critical; otherwise, it's a hassle for the supervisor and the rest of the team. Searcher/CEOs learn to "change the people or change the people" and put in place employees that will scale as the business grows. Flo Servan at Onsite Truck & Trailer Service held fast with a mix of consequences, second chances, and a bright line on drug abuse: "Showing up late limited access to raises, driving a lower quality service truck, or just missing a full day of work if the crew had departed. For absenteeism, 'three strikes and out.' Employees were discharged immediately for drug/alcohol abuse." Another CEO takes immediate steps for suspected behavior: "We also monitor GPS for all of our drivers for erratic behavior. An accident or enforcement stops for traffic violations triggers an automatic drug test and termination if found positive." And one CEO said, "Not addressing unhappy employees quickly enough means they will share their unhappiness with other employees and escalate the problem. Other employees know who is working hard and who isn't."
Jon Fitzhugh at ConcealFab uses an evergreen policy: "We have a points system where you get half a point for each tardiness; after three points, a mandatory review with the manager. Absenteeism has the same point system as above, but a full point instead of half a point for each day absent. After 90 days, the points are erased." Another CEO commented, "Two punch-ins count as an absence. Two unexcused, unplanned absences in a year led to termination. Per our state rules, we need to give a written warning of upcoming termination in the event of the second absence to avoid an increase in unemployment costs." Scott Duncan at F&M Tool and Die stressed accountability: "Repeat offenders have a review with me and go on a PIP (Personal Improvement Plan), which outlines the problem, the goal for the next time period, and clear consequences (usually termination) if they do not comply. The employee will meet with me until the end date of the PIP to make sure they are held accountable." Being pragmatic helped one searcher/CEO: "Showing the team that I cared about them and that I wouldn't let a single individual ruin it for the team, whether that person was exceptionally good or bad. I found that fairness goes a long way."
Only 27% of those surveyed reported having an up-to-date employee handbook to codify practices and to insure consistency. Jon Fitzhugh at ConcealFab used a group called Employers Council, which is a subscription service to HR attorneys, that he said "helps us structure and review our handbook. We have all employees sign a handbook when hired and after any materials updates. It has been a great tool to help us be consistent in our HR practices with employees." Andrew Mondi at American Color Labs reached for outside help too: "My print industry association offered a template with a basic framework. Then I customized it and put it online in our Gusto payroll platform. Now revision control is so simple. The team really appreciates knowing the rules." Of their handbook, one CEO said, "We had an old one and just spruced up the language a bit. We give it to everyone, but I don't think anyone reads it." Finally, Austin Ashmore of Sunrise Landscape commented, "We have an employee handbook that we inherited at acquisition, but it is pretty underwhelming. One of our projects for this year is a handbook rewrite with the help of our HR Generalist and labor attorney group."
Conclusion
If these reflections from other searcher/CEOs are too much in the weeds and just out of your comfort zone, then be cautious about what kind of employee group you acquire that may have these unique challenges. Ben Murray at New Forest Capital cautions, "Be fearful! This should be one of the top areas that keeps you awake at night. As a new manager, my biggest stresses have all been when a critical person had to be fired for misconduct—removing someone you really need will test your values. You have to be brave enough to do it when it is necessary." Successful searchers with these businesses dominate their competition who have weak systems, processes, and a lack of consistent and fair practices. Trish (Bissett) Higgins at Chenmark Capital Management observed, "Wherever you worked before buying a business, you probably dismissed HR as a trivial role. Post-closing, you will quickly understand that it is the most important role at your company."
No searcher/CEO finds talent acquisition and retention easy, but it must be at the top of your list. While you may have acquired a good company at a great price, you must always strive to hire and retain the great people, not the good ones. It takes persistence, patience, and practice to develop the experience to lead the organization forward to find and hold on to your employees and be effective at it.
Search on!!!
Feel free to share some of your own best practices or experiences in dealing with these issues in written blog comments below. I encourage this dialogue, allowing all to learn from both my own views and the views of others in a virtual learning cycle—so jump right in! Also, I frequently update individual blog posts and add to the Reference Sources and Search Tips sections of the site, so visit the www.jimsteinsharpe.com website regularly.
Published: 02/04/2021, Updated: 04/15/2021
Posts – Contemplating a Search
Posts – Launching a Search
Posts – Conducting your Search
Subscribe to Jim's Blog via Email
Enter your email to receive notifications by email.