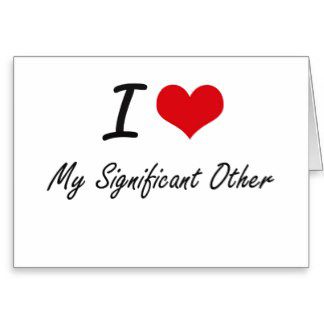 The support you receive during your search will come not just from your investors, other searchers, personal friends, and advisors, but also from the "significant other" in your life, whether that be your spouse if married, your partner in an affianced couple, or a simply in a long-term relationship. While not at your side during the day, they are with you in the evenings, weekends and early mornings as you head off for another day of searching for the business you want to own or operating it.
You owe it to your "life" partner to prepare them for what to expect as you start down the search path, which the most recent Stanford study on search says averages 7 years, with 5 spent running the business. Paul Thomson at Scottish American attributes the early stages of his search process as the primary cause for him becoming "un-engaged" with his fiancée at the time. It does not have to be like this for you.
For this blog post, I reached out to a dozen "significant others" of searchers, including my own, who were willing to share their own observations, some with attribution and others without, about how the search impacted their partners and themselves, and what advice they might give to others. A few searchers also agreed to share their own tips and observations on how to navigate these relationships through "for better or for worse and for search!" This post can be used to raise the issues and initiate the dialog with your own life partner wherever you are in your journey.
Key decision points are about you and "us"
As covered in blog posts on When to search? and Is search right for you?, there are lot of questions that you have to ask yourself about both timing and advisability of searching. You certainly want to be making this commitment for the correct reasons. More importantly, you want these answers for both yourself and your significant other.
Many searchers see the requirement to "relocate" as a deal breaker for "us". Oftentimes, this comes up after finishing an MBA program that also required a relocation, with the promise that the next step would be a more permanent location. The desire to "settle down" into a stable location is very strong for all but perhaps those with military backgrounds. Investors of funded searchers are expecting no restrictions in geography. A self-funded search can allow for a limited geography and reduce this uncertainty.
Diana Medoff reflected, "Not knowing when or where we were going to settle down was the most difficult aspect for me." Risa Roppongi, who is married to Jake Nicholson, said, "Never knowing where in the world we would be next, when and how my career would be impacted was very hard." Holly Byrd summed it up well, "I would find out that he was looking at a company in Detroit and would immediately begin to picture what our lives would be like there and what I would do with my career. Only then to learn a week later that the deal fell through and he was now looking at a company in Texas. It was a constant roller-coaster."
As a searcher, you may be a different person
Searchers act differently while searching, as one spouse said, "Get used to your partner having more frequent mood swings for reasons you don't understand." Another said, "The frequent rejection is emotionally draining". One reflected, "He was frustrated, became moody and grumpy. No matter how hard he worked – owners would just not sell to him". Even after finalizing the deal, but before closing, a spouse observed "I feel like I was actively feeling his own increased stress. Indeed, there are highs and lows, but the lows last much longer than the highs."
There is a heightened time commitment to search, a lack of routine and sporadically very long work hours resulting in an inability to commit to social events. Mary Ellen (Hammond) Mondi reflected that "Andrew was the hardest boss (on himself) he'd ever had, and he needed my help with establishing boundaries. He could have easily worked all the time on his search". Crowding into her own time, Risa Roppongi pointed out that, "Jake's hours were much less defined than traditional work hours with frequent calls during family/weekend time". Another said: "A very rigid daily/weekly schedule affected his sleep schedules, phone call availability and our own recreational choices".
Living with the "always on" searcher was difficult for a significant other who said, "Just not being able to commit to future events limited our participation in family and social activities and cut into our leisure time together." Risa Roppongi added, "Scheduling became a frequent challenge with lots of unpredictable travel". Another reflected that "I had to get used to him being away at random times."
One spouse saw how difficult it was for her partner to be "Working alone, he was feeling very isolated". Another pointed out that "It was a difficult transition to work in a secluded environment given their previous work experience – it is very lonely to work as a searcher". Another observed: "I felt like I was sometimes the only person he could talk about his feelings with".
Money issues, a common source of strain in relationships, can be heightened in the search process, especially self-funded. As one significant other said: "He became committed to spending money in the most frugal ways possible, which put a strain on our relationship." Another reflected, "Getting used to living on a budget, unlike before business school, was quite a change for both of us." One commented, "We really were changing our lifestyle to cut back expenses so that we didn't dive into our savings".
Not everyone saw hardship, as Holly Byrd reported "I have noticed that Jon's confidence has risen. I have seen him grow and develop into an even stronger person." Mary Ellen (Hammond) Mondi also saw significant positive changes: "His creative problem solving side came out as he tackled marketing, financing and leadership questions. It was awesome to me how much he grew in each of those areas as he pushed himself to learn more, think differently and be nimble." Clearly, the search path to entrepreneurship is paved with self-development!
A difficult path for many
Many searchers underestimate the challenges in a relationship of embarking on search. One significant other observed, "The first few weeks/months are really, really hard, and were a massive disruption to a partnership". As Andrew Mondi pointed out, "It is a good time to be brutally honest with each other."
Another shared, "I kept thinking that he is so excited about this, so what happens if it doesn't work out? Will he be depressed, question himself and his decisions?". Other doubts lingered, "Has he made the right decision to do this? What happens if he doesn't succeed in this?".
Just explaining the search process may be a struggle. A spouse said, "The inability for friends and relatives to understand the search process was frustrating." Another commented, "I had to think if I was really comfortable with the idea that my partner does not have a steady "corporate" job. Knowing what you will say to friends/family when they inevitably ask what your partner does?"
Seek advice from other CSO's (Chief Significant Other)
As a way to "pay it forward", spouses and significant others are generally willing to share their observations. Many reflected how important it was for them to seek out others in their situation. They recognized the value of the searcher learning from other searchers but also how effective for them it was to be able to speak with other spouses/partners. I recommend that searchers provide to their own significant others 3 contacts for "due diligence" to reach out to before they make their own final commitment to search. These connections should stay in place after the search is started and extend while operating the company; an important "significant other network" for significant others to cultivate.
Some shared the need to have their own distractions with one saying, "Have your own life." Holly Byrd observed, "I had to concentrate on my career and the now, rather than plan too far ahead. We also spent time working through what we thought was our worst-case scenario to help us see that even it was worth risk, after all, what did Jon go to Business School for? Why did you give up so much, if after graduation you go back to business as usual?" Diana Medoff goes further, "Create a 'Zen Head Space'. Don't get too excited or upset about any particular deal." Another found that, "Once I became absorbed in my own goal/project, it was much easier to disengage from the search stuff!"
Around the time commitments, Diana Medoff says, "Don't get too attached to deadlines. We made them and blew through them regularly." Mary Ellen and Andrew Mondi found "We put a premium on setting aside quality time together every day we were together (since we both traveled) – to cook dinner with each other once I got home from work, go to the gym, on a walk or go play 9 holes of golf before it got too dark".
Many spoke of making trade-offs and compromises as part of this process as Risa Roppongi said, "Agree on clarity about the partner's career and life plans after acquisition." Another reflected, "Consider that you are setting out on a joint ambitious venture – not sacrificing your own goals for someone else's."
On a more practical level, one partner shared, "Get an office away from where you live! The search is a job and should be treated as such. 'For better or for worse, but not for lunch.' Put in a work day and then come home and leave the job at the office – as much as you can". Another says, "When closing is over, ensure you take some time to yourselves and to take a vacation. The process of closing the deal is very stressful for everyone involved so it is important to take some time after to decompress, relax and celebrate!" Also, "Get used to living on a budget!" And finally, Risa Roppongi said "Talk about plan B in the event that the acquisition does not happen."
Lessons and observations from searchers
Adam Barker, a self-funded searcher, learned some ways to lighten the burden of being frugal, "Set aside money each week and quarter to treat your partner and Birthdays/holidays. Use your own time and do things that don't cost anything – i.e. maintain the house, clean the car, change tires, etc."
For self-funded searchers it is important to have a discussion about making personal guarantees to the bank that may have consequential impact on your lives and financial security. Perhaps early in your career, there may not be much to lose; however for mid and late career searchers, you partner needs to understand the ramifications if the business you purchase has financial difficulties and the bank "calls the loan".
Jake Nicholson shared, "I'd also say the amount of search detail you should share with your partner depends largely on his or her personality. In my case, the more I shared the more nervous Risa became, so we agreed to share on an as-needed basis." Doren Spinner observed, "A fresh set of eyes and the opinion from someone who isn't living it all day long can offer some real insight. Your spouse doesn't need an MBA to explain the actions of the seller/investor/banker that seems strange to you".
One searcher attributed his long-term enduring relationship as being very helpful, saying "We had been through lots of ups and downs, so this was not our first rodeo. Things would have been a lot different if say, we had met in business school a year or two prior to starting a search. That could have been very tough."
Andrew Mondi reflected, "A huge amount going on during my search for both of us, this whole effort would have been unsuccessful without Mary Ellen". Another said "With the acquisition behind me, we now feel a stronger bond for having gone through such an amazing accomplishment."
Most searchers introduce their spouses to prospective sellers during the LOI stage, and some even at the preliminary negotiations of an IOI. It is not uncommon to have multiple instances of dinners, lunches or simple meetings that include spouses. In some instances, the sellers spouse is also engaged in the business and wants to "assess" the "couple" that is considering buying the business. More often the purpose is to raise the trust level between the seller and the searcher, just another part of the process your significant other needs to be prepared for. And more importantly, the disappointment when/if the "deal" falls apart.
Summary
From my own experience, I learned that relationships take significant effort and cannot be taken for granted. It is hard work and demands strong communication with each other. Recognizing the value of sharing what the search process is about can be a great first step toward starting this dialog with your partner.
Search on!
Feel free to share some of your own best practices or experiences in dealing with these issues in the blog comments. I encourage comments and dialog, allowing all in the community to learn from both my views and the views of others – a virtuous learning cycle. Jump right in! I frequently update individual blog posts, add to the Reference section and Search tips, so visit the www.jimsteinsharpe.com website regularly.
Posts – Contemplating a Search
Posts – Launching a Search
Posts – Conducting your Search
Subscribe to Jim's Blog via Email
Enter your email to receive notifications by email.