Reporting on Search Progress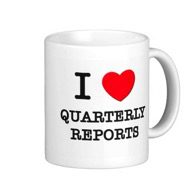 As you move along the Search path, you may feel the sense of autonomy and independence that motivated your quest to run your own business. However, you are still accountable for your activities, decisions and directions – whether your funders are backing your search or you are funding it yourself.
Regularly spaced reporting is a great discipline to develop early on in your search. There is value in periodically reflecting on your progress, re-establishing goals and integrating market and personal learning. Having a "regularly scheduled" time to do this can revitalize your search, keep your supporters engaged, and establish a reporting rhythm that will be valuable for the company you eventually purchase.
Consistency and frequency build trust.
A quarterly reporting schedule is sufficient unless you have a particularly fast moving timeline immediately prior to closing. Send your update on the last day of the quarter, every quarter. Avoid the temptation to slip a few days to wait for some additional good news or developments. Instead, save this type of update for a "special event" communication. Use a consistent subject line title so that a search of email reveals something like "2014-Q1 Search Update – Pinkham Notch, LLC"
Your audience should be potential investors in a funded search, formal and informal advisors, parents, your significant other and key members of your network who are interested in your progress. They are "living your dream" vicariously along with you and want to know where you are in the search process. For self-funded searchers, quarterly reporting to potential investors runs a high risk of fatigue. Most won't understand the challenges of the search and may lose confidence in your ability as you constantly report on your disappointing results from quarter to quarter. Funded search investors, on the other hand, know what to expect.
Spend no more than about 3-4 hours on your report. Publish a maximum of a page and a half in length so your update is not shuttled to the bottom of an email inbox. Avoid the friction of opening a separate attachment, so include your update in the body of the email. Strive for short sentences and paragraphs for brevity. Before writing your first update, reach out to a seasoned searcher in order to see how he or she effectively communicates.
If you can measure it you can see your progress and plan for changes
As you are searching, it is easy to get caught up in the day-to-day activities and lose sight of your own progress. Tracking and reporting your progress with data and commentary is part of the learning process.
Show your activity with metrics that help portray a sense of progress over time. Put them into a linked spreadsheet that will show quarterly data over the search period to highlight trends in activity. Compare your historical trends with that quarter's goals and use actual results to create the next quarter's goals. Include your prospecting activity that enumerates your "search pipeline", keeping your proprietary search efforts separate from brokered, but with totals for both methods of sourcing.
Consider tracking details like prospects identified, communications sent, responses, positive engagements, NDA's submitted, face-to-face seller contacts, seller phone calls, site visits, IOI's made, LOI's issued, expenditures, burn-rate and months to flame-out. Also, specifically identifying disqualified opportunities to show that the you understand the pipeline process with discrete its gates. This data can support your written commentary as you observe trends, patterns and reasons for changes in activity.
Identifying the most interesting deals, perhaps just 3 or so during the quarter will provide a sense of what has been in your pipeline with brief a brief overview of revenue, EBITDA, employee count, market, and seller profile. Highlighting the reasons that these top prospects were attractive reinforces your focus on the "ideal seller profile" and your assessment of their potential to close. Also discuss the businesses that have gone away, and why. Reflecting on the ones that got away will make your next approach that much more effective. Another section should cover the progress on your goals from the last report and your projected plans for the upcoming quarter. Leverage your progress last quarter to shape next quarter's goals. Identifying your progress with interns if you use them will help keep them engaged.
Reflection that leads to changes in your process and behavior
A final section should cover the emotional side of your search with reflection on your own surprises, learning experiences and disappointments. Again, your audience wants to gain a sense of what it is like as you travel along this path. Your feelings along the way especially compared to your expectations. Remember – this is understood to be a process – don't appear "head over heels" in love with only one prospect and then appear crestfallen when they fall away.
Taking the opportunity to reflect on what is working, and more importantly, what is not working, is one of the most positive benefits of regular reporting. Focusing on what you will be doing different is the basis for continuous improvement. Since time is such a precious commodity in your search phase, you cannot afford to spend time in areas that are not driving you to close an acquisition. Looking back beyond the last quarter also gives you an opportunity to reflect on your overall progress, after all, this process is a huge learning experience which becomes even more apparent after you have been at it for a while.
Elicit help from your interns and/or partner to do this. A mini-360 review can be institutionalized along with this regular reporting. Challenging each other to "change" or modify practices will help root out inefficiencies. 
A quarterly report- will be great "practice" for you as you prepare to run the business you purchase. Getting in the habit now can help clarify your thinking and encourage/engage your current or potential investors, as well as broader network. Regular communications with employees, lenders, investors, vendors and customers all build trust in your ability to lead the business to sustainable profitability and growth.
Search on!
I encourage comments from readers and dialog about the topics which allows others to see the commentary and learn both from my views and the views of others; a virtuous learning cycle. Jump right in!
Posts – Contemplating a Search
Posts – Launching a Search
Posts – Conducting your Search
Subscribe to Jim's Blog via Email
Enter your email to receive notifications by email.